Just finished up my first rod build (with some assistance here) and decided I will be doing more.  In that light I headed off to the shop to see what I had laying around to make a wrapping jig I would be happier with. 
  Used 3-1/2" bolt with synthetic washers, spring and wing-nuts for spool tensioners.  Stopped by my local sporting goods store and asked about any blem's or damaged/broken ice fishing rods - came away with one that worked great as a tension pickup arm. 
  As soon as I got the rod built I tried doing a weave using a 1/2" wooden dowel (poor choice for that test....) and determined I needed more space between the rod supports for the home-made looms to fit.  So, I ended up with a jig that has a fixed 12" wide base for the thread platform - and 24" of T-track on either side.  I made 4 rod supports, so in all I have the flexibility to go anywhere from 12" to about 62" between the supports.
  Still need to pick up some felt to protect the rod blank.  This was built using some plywood scraps I had in the shop already - should it work out well I will be planning a way to integrate all this into a fly-tying, rod-building storage desk cabinet idea I have been thinking about for a custom build in Black Walnut.
  Had problems attaching images, so a couple posts to follow with 2 additional pictures.
The overall jig in plain ol' plywood.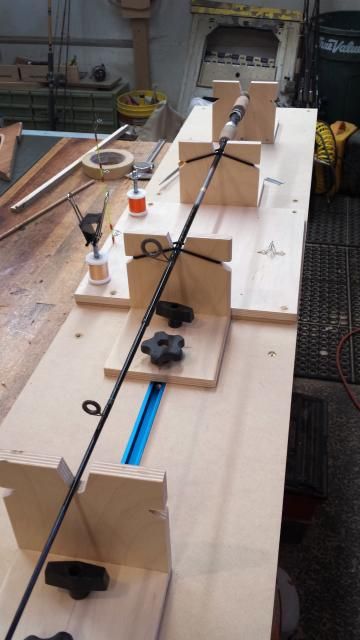 Wrapping platform: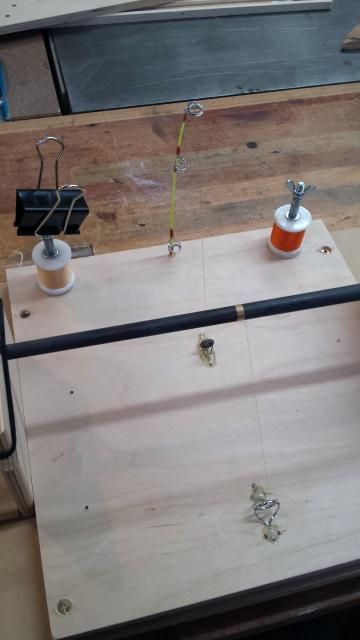 Rod stands moved out to make room for the weaving looms.