I've just come across a post on the list serve that asked how to turn eccentric real seat inserts. I'm no expert but I have done a small batch using Australian desert timber burls. This is still a learning process for me but I thought I'd post what I've learned so far. This is the eccentric/offset fixture fitting used for a 3 jaw chuck. See Gary Dabrowski's drawings
http://brooksiderod....eatworkshop.pdf
This fixture it able to turn fillers with an OD of .660 with an offset of .100. The depth of the finished eccentric cut is .100 which allows a standard reel foot and a sliding band to fit comfortably.
Here it is mounted in the chuck with the centric turned and bored wood with some eccentric cutting visible. This first piece was done without the live centre tailstock attachment.
You can see the halo surrounding the timber as it turns off centre. This means very light cuts with a very sharp with a tool rounded for the arch in the cut.
This is the only successful seat I was able to make without using the live centre in the tailstock.
The rest ended up like this. The flex in the timber as it turned off centre was enough to bite into the tool, grab and break the timber.
So I ended up boring the timber almost to the end allowing about a half inch of solid wood for a new offset centre to turn in the tail stock. This prevented breakages and allowed me to bore the centre hole from the end side after the eccentric cut. Then simply cut off the waste. I did try to bore the entire hole after the eccentric cut but since the timber is very thin on the eccentric face the heat generated - no matter how carefully I proceeded or allowed time for cooling off between boring small sections at a time - caused expansion and checking/cracking in that area rendering the seat unusable. This picture shows the timber removed from the eccentric fixture in the chuck with the solid end being bored. It will then be cut to size and finished off to take the cork check.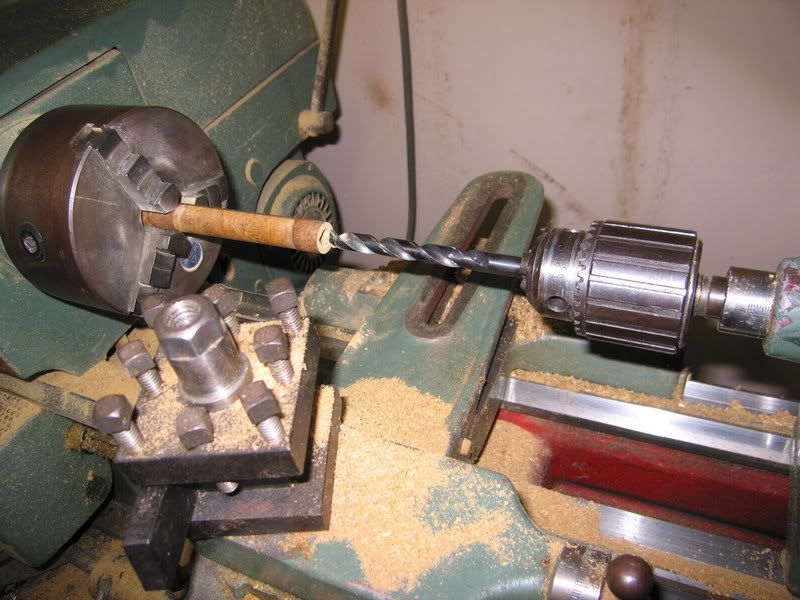 This is how I found the new offset/eccentric centre in the end for the live centre in the tail stock. It meant I had to calculate the difference using a "V" block and ground surface block with a gauge to minimise discrepancies. There's got to be an easier way but I haven't worked it out yet. At the time I was trying to get a result with what I had.
Here it is just before finishing the eccentric cut checking the fit with a reel foot.
Here's the finished piece needing to be polished.
Here's a few with hardware sitting in place.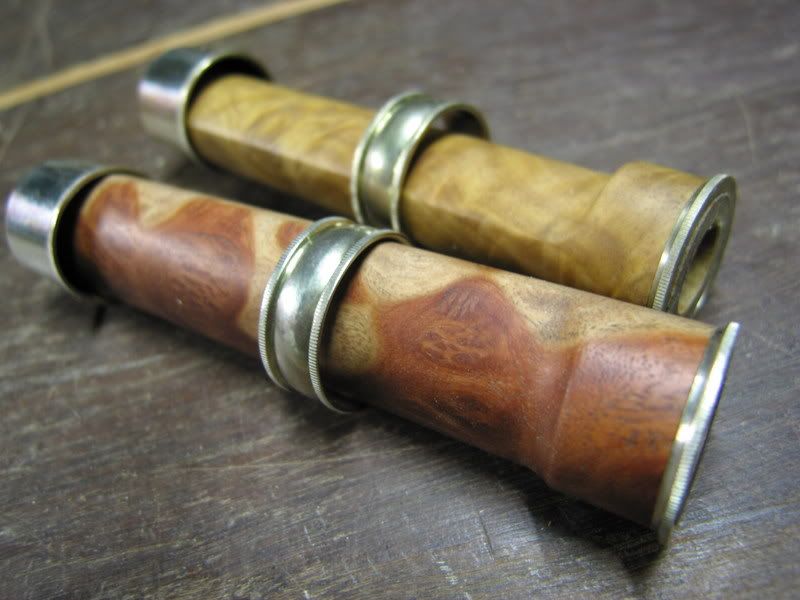 Now all I have to do it workout how to waterproof the wood effectively and I'll be pleased.
Hope this helps.