I find myself doing the same types of wraps over and over again. Most are solid color, tipped in a different color (or a matching metallic thread). Or, I will do a single- or double-twist in a metallic or contrastiing color, which gives an attractive, if subdued, look. This is an example of how most of my rods are wrapped: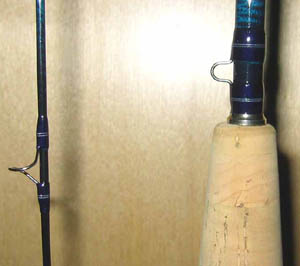 I usually put a matching 'ruler' wrap or two on the butt section at 16", 20", 24" or whatever: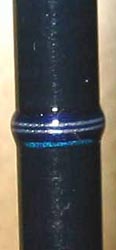 Several weeks ago, a friend asked me to do a rod for him that had dark blue wraps, gold tip on gold guides. I tied up a normal blue w/ gold tipping on a couple of the guides and it looked way too LOUD for my tastes. Knowing that he would want the rod to stand out a bit more than just a couple of gold spiral wraps inside the blue wraps, I decided to put the tipping on the inside, or guide side, of the wraps. It ended up looking surprisingly good!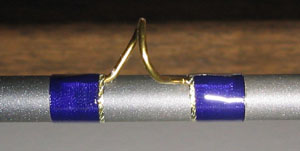 It makes it look sort of like the guides are continuous around the blank. Since I didn't tip the metallic thread as a separate wrap, I was able to do 4,3 or 2 turns (depending upon the guide size - I matched the gauge of the guide wire to the number of metallic wraps) and still have it be very secure. In my experience, metallic thread is notoriously difficult to make small independent wraps with, because as soon as it gets wet with color preserver or finish, it loosens up and will often completely unwind. Here is a second rod I tied up this way with silver guides (before finish was applied):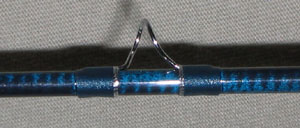 If anyone is interested in the techique I used to do the wraps I'd be happy to post it. It's not difficult, but I did have 2 staggered tie-off loops and 3 tag ends at the end to trim, so it did take a bit of a touch to get it just right.