Here is a list of the essential tools that youíll need to make your own bamboo rod. Not included are the standard rod components such as ferrues, seat, guides, etc.
The short and sweet version thanks to Darryl Hayashida:
Or the longer, more in depth version:
You can click on any image to be taken to a website that offers that product. I chose the websites for no particular reason, so donít necessarily take them as suggestions of where to get the items, nor, in many of the cases, precisely which ones to get.
PencilMeasuring tapeVarious grits of sandpaper - 100-400File for prepping nodesBinding string
- I've used kite thread before, but hand quilting thread works great too.
Glue
- Titebond 3, Gorilla Glue, ProBond, and quite a few other, more or less benign, types can be used.
Torch
- Bernz-o-matic for around $30 at any hardware store works great. Either propane or MAPP gas is fine.
Froe and mallet for splitting the culm. Any tough knife that you donít mind hitting with a mallet is fine.
Froe
:
Mallet
: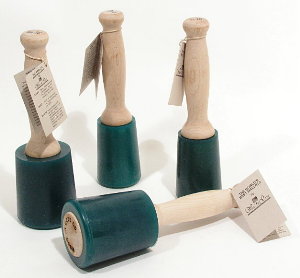 Fine toothed saw
for cutting the culm:
Alcohol lamp
or a
heat gun
. Cost: $20+
Wagner Alcohol Lamp:
Heat Gun:
A
smooth-jawed vice
for pressing nodes:
A
well tuned adjustable mouth block plane
. A Lie-Nielsen is the best, but a properly adjusted Stanley 9 1/2 will work fine if you put in a top quality Hock replacement blade (~$40 for the blade). Veritas and Record also make good quality block planes (don't get a low angle). The biggest advantage to a Lie-Nielsen or Veritas is they are ready to go out of the box and already come with a top-notch blade. Cost: $70-$150
Stanley:
Record:
Veritas:
Lie-Nielsen:
Sharpening system for the plane blades
. This can be as fancy as a Tormek grinder, as utilitarian as a set of DMT diamond stones or standard water stones, or as low tech as various grits of wet/dry sandpaper and a sheet of thick glass (aka 'Scary Sharp System'). Whatever way you go your plane blades have to be SHARP. Sharper than a razor. Cost: ~$20-$400
Scary Sharp system information:
http://www.shavings.net/SCARY.HTM
Japanese Waterstones:
DMT Diamond Stones:
Tormek Grinder:
An
adjustable blade holder
like a Veritas jig is essential for hand sharpening. Cost: $30ish
Rough planing forms
(or a beveler
). You can actually use your regular forms for roughing as you first get started, or you can easily make a set from wood with a router and/or table saw.
Wagner Roughing Forms:
Depth gauge/dial indicator with 60 degree point
. Cost: $50+ depending if you make your own base and/or point. Lee Valley has what appears to be a decent digital depth indicator for $38.50.
Digital depth indicator:
Bellinger Depth Gauge with stand and point:
A good set of
calipers
. Digital or dial. Cost: $15+
Calipers:
Digital Calipers:
Finish planing forms
. This is the only really pricey item on the list, but also the most important. Cost: ~$100 for hand made, to $390-$450 for Colorado Bootstrap or Blauvelt's, to $1050 for swelled butt Wagner forms.
Colorado Bootstrap Forms:
http://www.coloradob...ap.com/fishing/
Blauvelt Planing Forms:
Bellinger Planing Forms:
Wagner Planing Forms:
A handful of
single edge razor blades
, or even better, a
cabinet scraper
(I use one that I use for tuning skis that I've had for years).
Lie-Nielsen Cabinet Scraper:
Sanding Block
. This Veritas is the ultimate and worth twice the price!
I think that is everything. All the rest of the stuff is the same stuff needed for wrapping any fishing rod. Total cost? Well, a lot of that depends on how many of the required tools you already have, and how fancy you want to go. Iíd say the minimum if you had to buy everything would be around $400-$500 plus the cost of your planing forms.