The last couple of months have been chaos upon chaos with regards to work.
It was the one deadline after the other and I am certainly not complaining but it does take it's toll if you don't get a bit of a break. December saw us working right through to finish deadlines.
Well in between orders and things working out and things not going as planned I decided to book two venues in the Drakensberg. I have never been in the Berg this late in the season, but I hoped that rather late than never would count in my favor. Well lets just say I almost didn't go, but I just pushed hard and managed to sneak away on Friday the 24th of April.
Needless to say I only left Pretoria after about 14:00 and I knew that I would not make the last stretch in daylight, so I phoned the staff at Kamberg Reserve and pleaded with them to not lock me out after 18:00. I actually wanted something more central, but couldn't get something within my budget so I opted for Kamberg. I got in probably around 20:30 or thereabout. The road from Rosetta to Kamberg is not really worth being called a road as I have driven on gravel roads thats better than this road, but we made it in one piece. 
Saturday morning I got up and my Father-in-law was really not feeling well, so I decided to rather fish the Mooi instead of going to Injusuthi as I have planned. Well heaven help me as this place really doesn't like me at all. I just don't know why, but this place always makes me doubt my angling skills. In 2012 I hooked up with a Brown deep in the Mountains only to be broken off, well this time round I fished from the gate to the weir. This did not help either as the water was really thin and super clear. If you spotted a fish it has already spotted you. I tried fishing the pocket water, etc. hiding behind rocks, grass, etc. without any luck.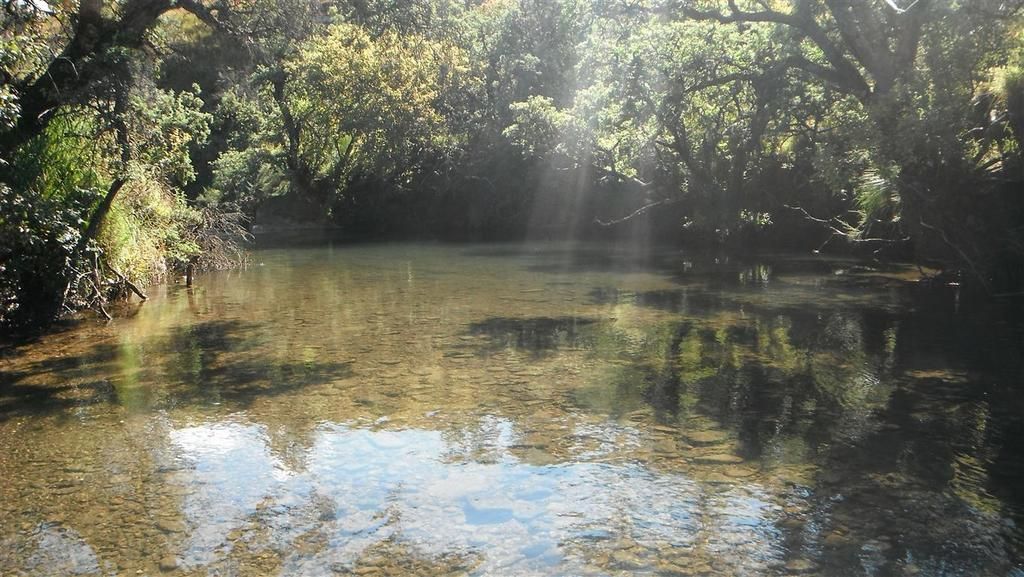 In this pic there are two fish round about the middle of the pic. I took this pic just to show how clear the water is and kept in the shade and when I made my cast the fish just moved off.
I got off the water early and just couldn't believe my bad luck with this place. I kept on saying to myself, you should have gone to Injusuthi.
End of Part 1....